What is a scrollbar?
What is a scroll bar? Look to the left side of your screen, and you will see the scrollbar as well as the scroll arrow and scroll box. Below is an image of a scrollbar and I identified the parts for you.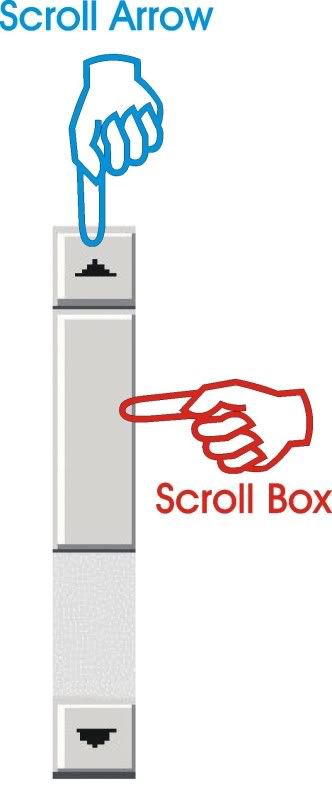 The scrollbar on the right enables you to scroll up the screen and scroll down the screen. At times you will also see a scrollbar along the bottom of your screen as well. This allows you to scroll your screen to the left and scroll your screen to the right. It basically brings you to areas of your screen that are hidden from view.
The scroll bar has a scroll box inside of that. If you wish to go to the top or the bottom of the screen that is NOT in view you would place your mouse pointer over that scroll box, and then hold it down and your glide your mouse up and down.
The scroll arrow is nice when you have a VERY long page, and you want to go directly to the top or the bottom of the page you are using quickly. Click on the scroll arrow direction you wish, and you will scroll directly to the top or bottom of the screen.
Take a look at a humorous example of a scrollbar in action!
I love IT! Hope you enjoyed our lesson on what is a scrollbar. Try it on your screen now using your scroll box, and the scroll arrow to try it yourself!
what is a scrollbar, what is a scroll bar, scroll box, scroll arrow